Hanwell EMS – Environmental Monitoring Software
The Hanwell environmental monitoring software (EMS) can be used with Hanwell Pro and Hanwell IceSpy hardware to provide a secure and flexible tool for comprehensive data collection, analysis and immediate alarm notification.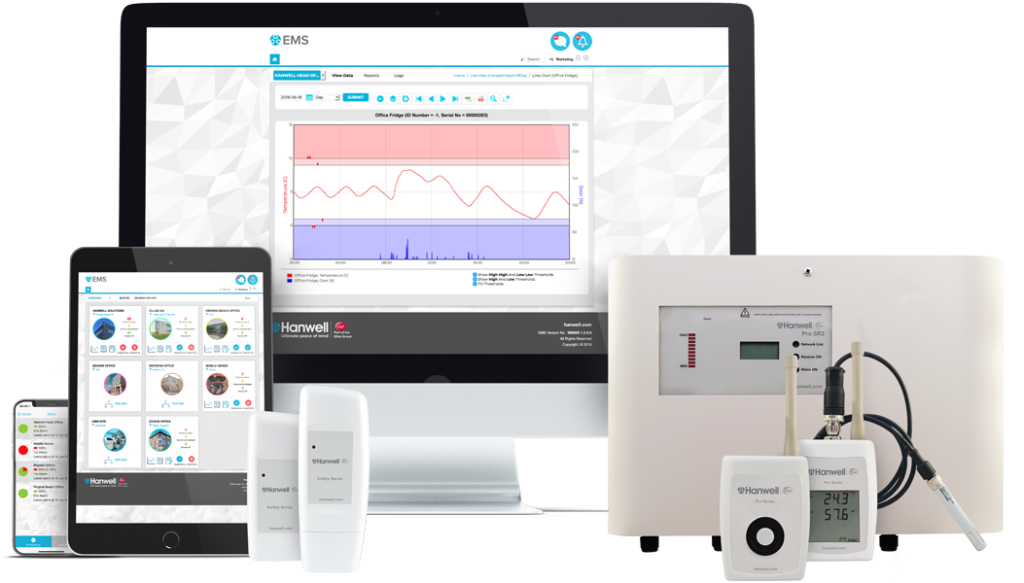 Comprehensive Software Platform
EMS is a leading edge software platform that combines and supersedes Synergy and Notion Pro onto a single integrated software solution.
EMS is scalable and offers a contemporary browser-based user interface. This enables the data from both Hanwell Pro and Hanwell IceSpy hardware to be seamlessly fed into one system, providing an industry leading software and hardware combination.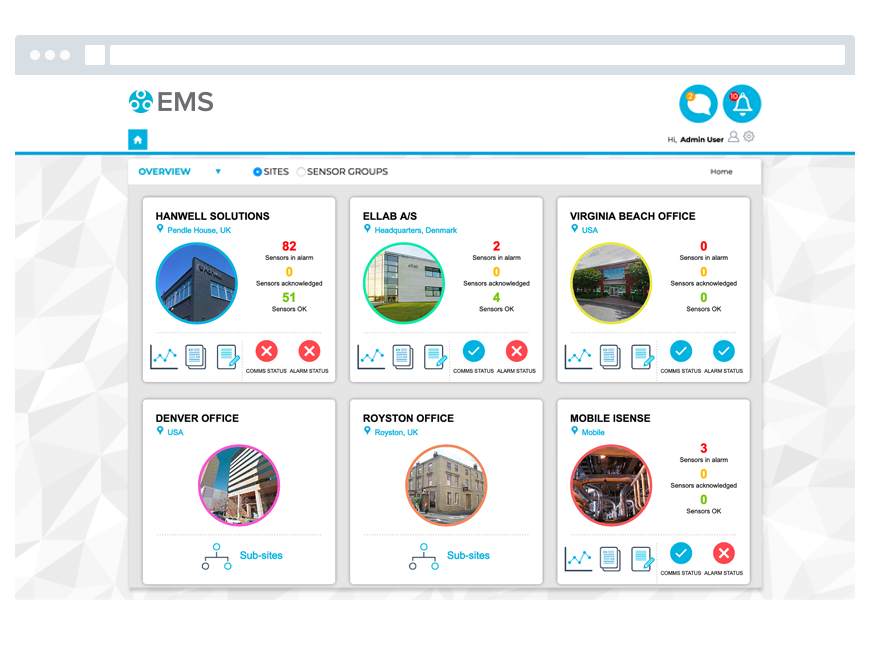 Overview
Overview provides users with an overview of overall system status, while the dashboard can be customised per user.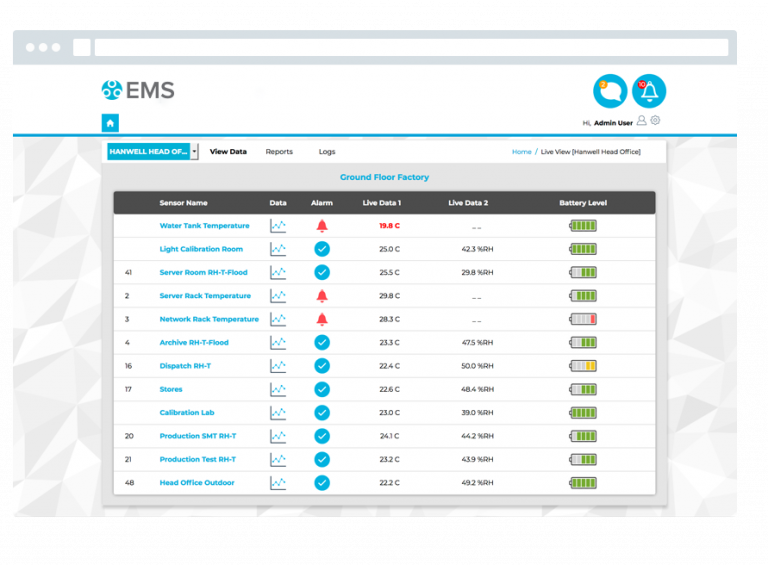 Tabular View
Tabular View provides list of sensors with clear indication of alarm, battery status and live data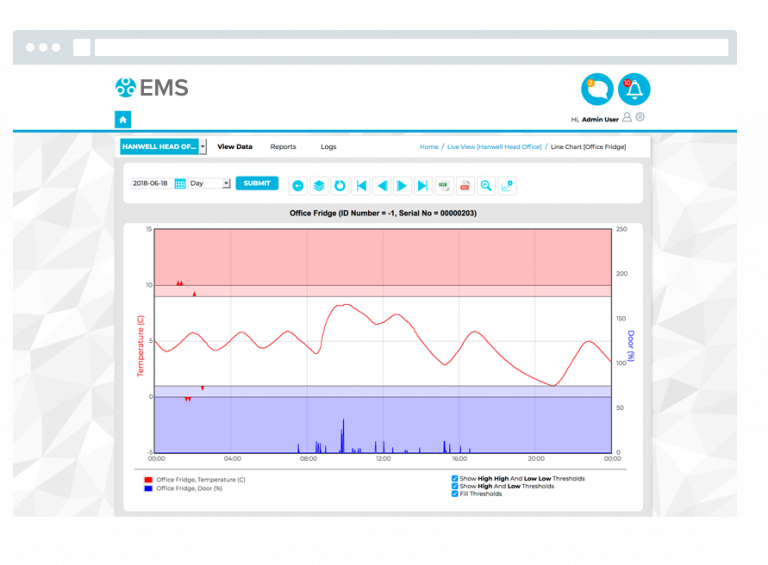 Graphical View
Graphical View provides line graphs with optional door position indicator, alarm level indication. Data overlays, zoom plus many more features.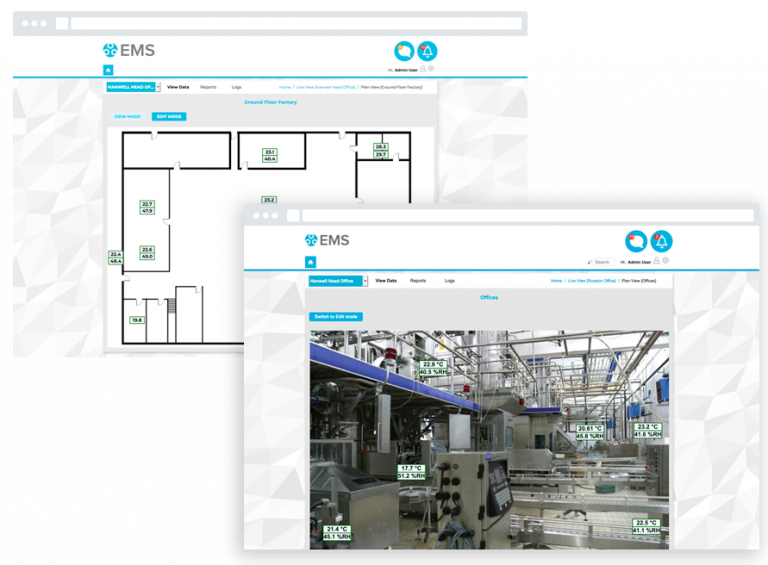 Plan View
Plan View provides visual indication of sensor location within a facility. Sensor icons show real-time data and alarms and interaction by double clicking icon.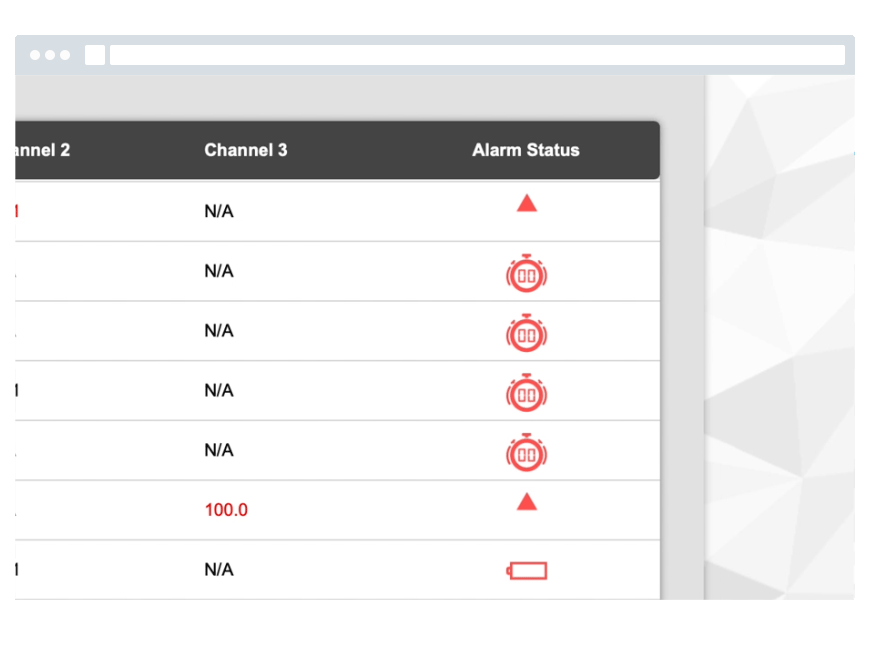 Animated Alarm status
Quickly identify the type of alarm per sensor with animated alarm icons.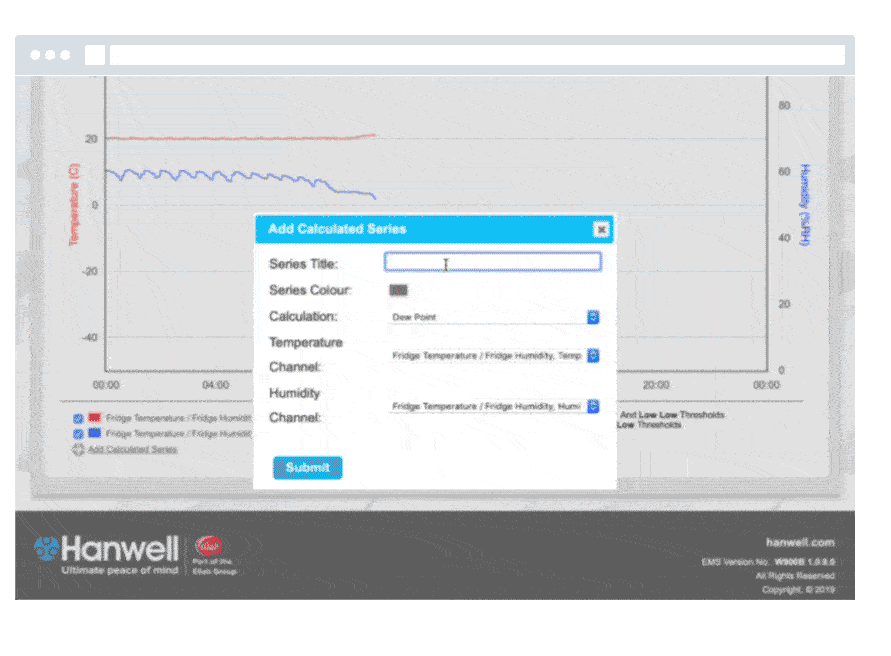 Dew Point
Record and analyse Dew Point on RH/T graphs.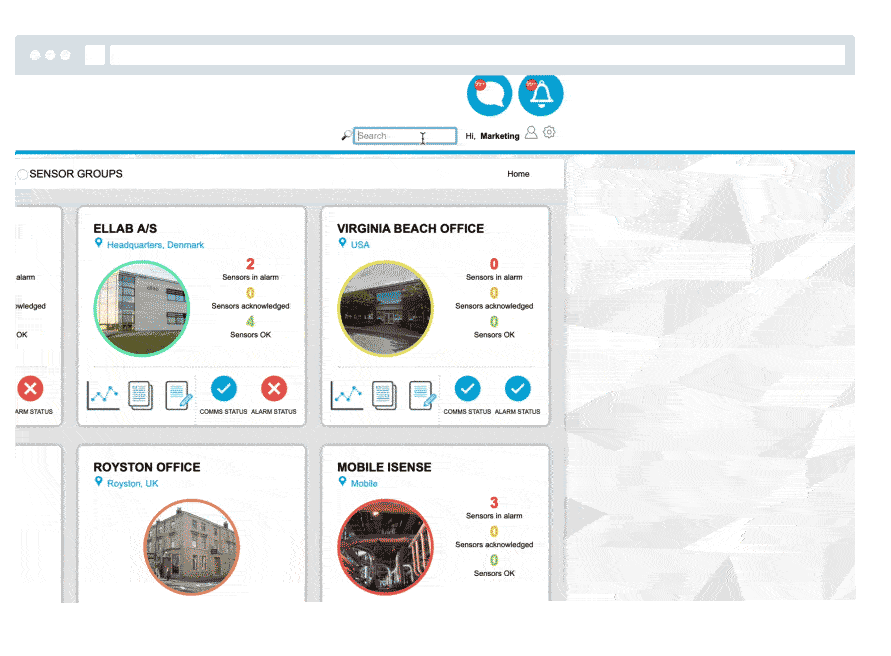 Search function
Quickly find and view sensor data with the new search tool.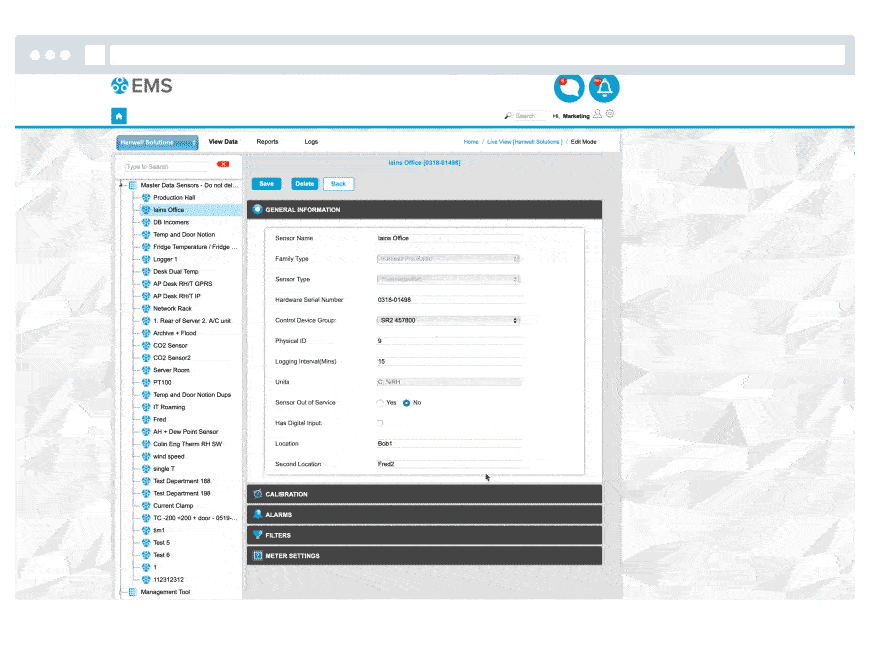 Regrouped Sub-sections
Scroll, search and edit using newly merged subsections.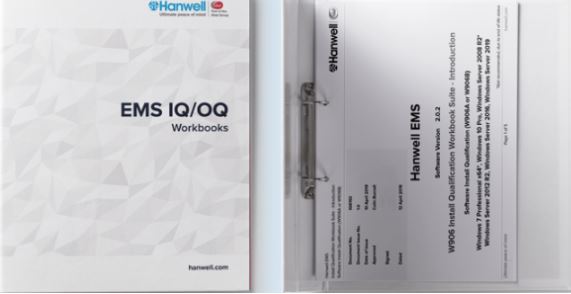 Validatable software
Specifically for the pharmaceutical sectors, we provide comprehensive IQ and OQ protocols and custom protocols, where required. Trained engineers and distributors are available for smooth validation protocol execution.

EMS assists with national regulatory compliance requirements
GxP Guidelines, HACCP, FDA 21 CFR Part 11, EU GMP Annex 11, and ISO 22000 food standards
Schematic A
All system components would be installed in the same physical location.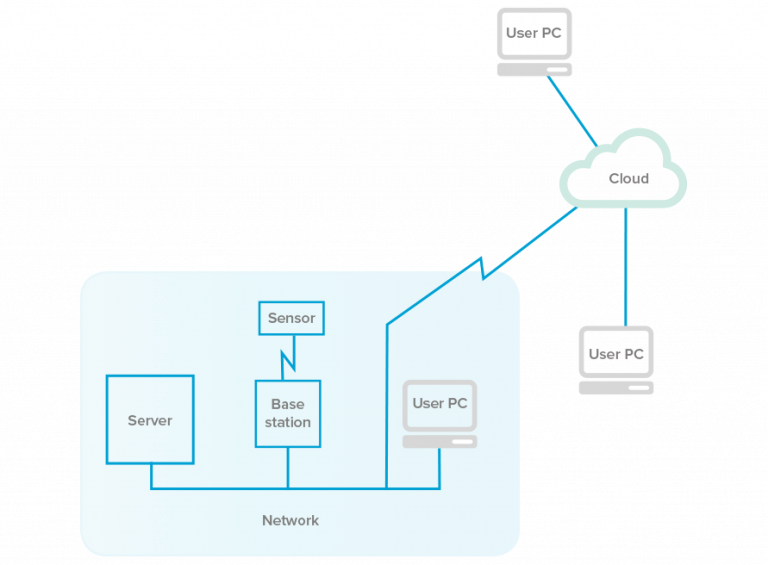 Schematic B
Shows how the system components could all be located in different geographic locations using a server and SQL connected via secure connection, e.g. intranet/VPN.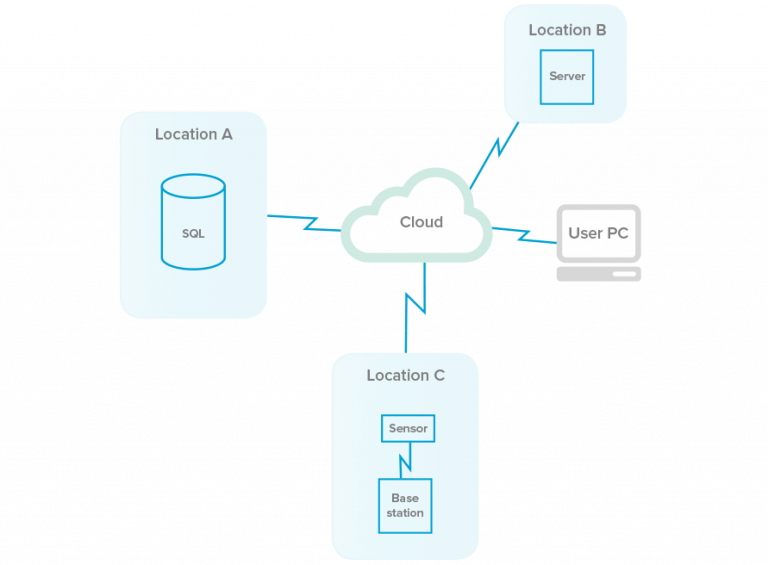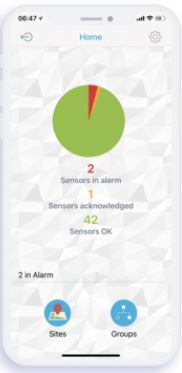 PLUS
Hanwell EMS Alarms smartphone app for ultimate peace of mind
Android and iPhone App
The Hanwell EMS Alarms App is your direct access to Hanwell EMS sites and sensor group data with real-time alarm notification. Immediate alerts, in and out of working hours, for ultimate peace of mind.